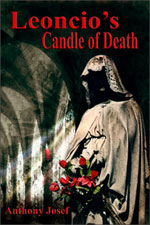 Leoncio's Candle of Death is the first novel of the Jake Crocetti True Crime Mystery Series. Anthony Josef weaves the facts of true crimes with completely fictional characters, and in the end, sets the record straight in a wrongly-solved murder mystery on the High Plains of Texas.

Trial lawyer Jake Crocetti is hired by the wife of a missing Amarillo attorney to figure out whether her husband is dead or skipped off to the Carribean with a topless dancer.

When Jake and his investigator, Victoria "Vic" Fontana start swimming through facts of the case, they find themselves drowning in connections to a decade-old capital murder case involving the gruesome Halloween night rape and murder of a nun at St. Mary's Convent.

As Jake pieces together the final days before the attorney disappeared, he uncovers the most shocking law enforcement conspiracy in Texas history-a conspiracy between a politically ambitious and thoroughly corrupt District Attorney and his puppet Medical Examiner. This conspiracy led to the wrongful execution of a brain-damaged teenager, Johnny Blackburn. When the most vile secrets of Amarillo's past start gurgling to the surface, the smell of death becomes inescapable as bodies start dropping like flies.

Nothing is what is seems in this bone-chilling tale of murders, cover-ups and plain old West Texas injustice. And nothing can prepare you for the conscience-numbing revelation of the true murderer's identity and realization that the State of Texas has executed an innocent man.